Welcome to Carol's House! Since 1978 Carol's House has been providing care, community and cognitive growth to children in Norman, OK. Our program is based upon these principles:
respect for each other
reverence for our earth
understanding of others' rights and feelings
social and emotional awareness and the vocabulary to express wants and needs
self-reliance
safety and good health habits
cooperation and kindness between children of many ages
self-regulation
cognitive achievement
curiosity and an excitement for learning
thinking outside the box
learning how to learn not what to learn
going outside
having fun
an introduction to rhythm and melody
plenty of exposure to open-ended visual art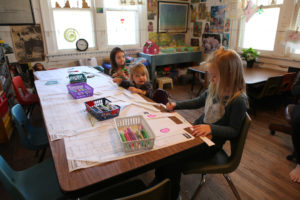 Days at Carol's House revolve around a schedule that provides the stability of routine while allowing plenty of time for children to free play, play games, make visual art, sing, dance and spend plenty of time outside. Children enjoy quiet time on the loft, digging and creating in the sandbox, pretending with the dress up clothes and imaginative toys, drawing, cutting and taping at the rectangle table, building with Lego bricks, blocks, or a myriad of other fine-motor toys that are on hand.  Almost every toy available to the children is rotated out on a weekly or biweekly schedule, keeping interests piqued and children excited.  The toys, games, supplies and curriculum have been collected and developed over the nearly forty years of Carol's House's existence, the previous 22 of which have been in our current location, a dedicated center in a home in central Norman, next door to Carol's house (lower case h,) the original location that is still Carol and Dan's home.